In today's guest post Online Business Development Strategist Tracey Lawton shares 3 systems to support you in your business so that you can focus on doing what you love – coaching.
3 Systems to Set Up When You Don't Know Where to Start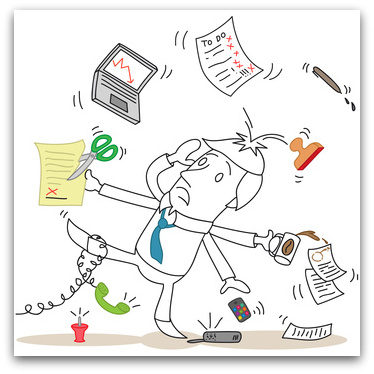 Recently I held a laser consulting call with a client, and she basically came on the phone and said to me,
"Tracey, I'm surrounded by paper. I don't even know where to start to get organized."
Sound familiar?
I know for many of you this is a big issue. And "just not knowing where to start" when it comes to running your business is a major source of overwhelm in itself.
You started your business because you had a passion to coach/serve people… you didn't start it because you wanted to organize your paper piles! And yet, this is the reality. If your business is going to succeed, and you're going to do the work that you love to do, you have to create systems to support you in your business so that you can focus on doing what you love.
It's a bit of a Catch-22. But with a bit of guidance and support, you can easily create the right systems to grow your business.
So, I'm sure you want to know what I shared with my client?
Here are my top three systems to get you started if you don't know where to start:
System #1: Create Client Files
For every client that you're currently working with, create their own individual file. These can be simple plain manila folders, or you can use something much more pretty and eye-catching. I personally love brightly colored files as they brighten up my office. Each of my private clients has their own, brightly-colored folder.
Once you've created your individual client files, store them alphabetically in a file draw or plastic file crate. Then only take them out when you need to work with that client, and put them back once done.
This is a very simple and easy way to get those papers off your desk and into a more organized system. And keeping it simple by alphabetizing your client files really does work.
System #2: Create Content Binders
Another issue this particular client had was where to store all the content she created for live workshops, teleclasses, programs etc. At the moment they were all on her desk and she couldn't find anything.
I too have a ton of content from the various teleclasses, webinars, and virtual workshops that I've held over the years. And as I'm a visual person and don't enjoy working directly from a PC screen, I tend to print out a lot of stuff. So I shared with her how I store my content papers.
I simply have a 3-inch ring binder and use divider tabs to separate out the various workshops and teleclasses. So for my free teleclasses that I regularly hold, I have a 3-inch ring binder (blue) called Teleclasses. For my virtual workshops that I run through the School for Online Business Success I have another 3-inch ring binder (orange) called SOBS Workshops. And for my Your Systems For Success program, I have an "official" binder that I store all of that program's content in.
By utilizing different colored ring binders I can quickly grab the one that I need.
This sounds simple, I know… but it works! And simplicity is the key to success.
System #3: Tracking Your Articles
This particular client also wanted to know how to keep track of all of her articles that she'd written and published in her newsletter or online. Again, I shared with her how I keep my articles organized.
All of my articles are stored in plain text format in a folder on my PC called Articles. Then I have a master spreadsheet that tracks:
When I last used the article in my newsletter
Where I've published the article online, and when
When I added it to my blog
When I promoted it on social media
I have a complete overview of all of my articles, and where they're being published, all in one place. Again, a very simple way to track and organize my content.
As you can see from the above, keeping it simple is how I organize my business. Business owners tend to over-think things and make it more complicated than it really is.
Honestly, the simpler you can make managing your business, the faster it will grow!
About Tracey Lawton

Online Business Development Strategist, Tracey Lawton, teaches life coaches, business coaches, and virtual assistants how to become more organized, streamlined, and automated so that they don't constantly bottleneck projects and processes. Having the right systems in place leads to consistent revenues, more clients, and less stress and overwhelm. Find out if you have the right systems in place for your business with the free quiz, "Is Your Business Set Up To Fail?" at http://bizsuccessquiz.com
Article Source: 3 Systems to Set Up When You Don't Know Where to Start