In this week's guest post Karen Wise shares a personal experience. How familiar is this for you and/or your clients?
Relationship Drama

by Karen Wise

My friend Rose called the other night. The conversation started like this:
"Karen, I really need to speak to you – I need your advice"
And then she started to whisper
"The thing is, I've been having an affair, and I don't love my husband any more, and I just don't know what to do".
Rose and I have been friends for twenty years and she's been with her husband for almost as long. She was one of my bridesmaids and both our kids were born weeks within each other. Rose has also lurched from life crisis to life crisis for the last two decades.
What I realised some time ago, is that Rose and I each have a role within, what psychologists call, the Drama Triangle (see diagramme below). Rose is always the "victim" with a crisis and I'm always there to rescue her.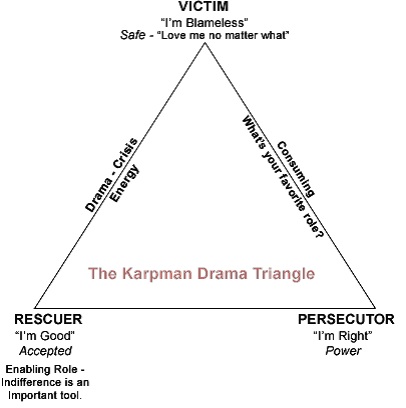 Quite often we have more than one Drama Triangle in our lives, and with each one we're playing a different role. With my husband, I have to admit, I frequently play the "Persecutor". We can also find ourselves playing roles from the Drama Triangle at work, particularly during times of stress, when tight deadlines need to be met or mistakes have been made.
Most of the time, the Drama Triangle is useful in helping us manage day-to-day interactions. It might feel uncomfortable in the moment, but that tension makes either us or the other party shift their position to lead to a better outcome.
However, there are times when playing out the Drama Triangle isn't helpful and could border on destructive. The negative behaviours can lead to a breakdown in trust, confidence and ultimately relationships.
If you find yourself in a Drama Triangle you have a choice. You can choose to step out of whatever role you're playing. Don't run away from the drama, but take a different approach to that of either a rescuer, persecutor or victim.
As I love my friend Rose, I've agreed to go out dinner this weekend to talk it all through with her. She has a major life decision to make, which won't just affect her – but her husband and her two kids. I will help her through the most recent drama as for now, our relationship remains healthy and I'm happy to play the rescuer once again.
About the Author/Further Resources
Karen Wise, MCIPD is an Organisational Development Consultant and Coaching Psychologist, with over 12 years' experience of working in Human Resources roles up to and including Director level within the NHS in the UK. Karen now runs her own consultancy and coaching business, with a particular interest in outplacement coaching. She has recently been awarded an MSc in Coaching Psychology from the University of East London. You can follow Karen on twitter (karenwise) and read her weekly blog on working in HR in the NHS at www.karenwise.wordpress.co