Philipa Davies shares her experience, expertise and thoughts in today's guest post.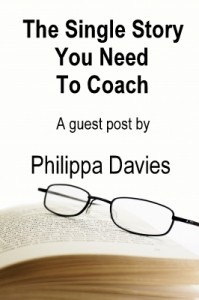 The Single Story You Need To Coach
We make sense of the world through two main ways: how things are similar and different – and stories.
You'll know this as a good coach.
You'll be skilled at getting stories out of your clients which explain how they arrived at where they currently are.
Your clients will have 'defining stories' in their accounts of their lives – turning points where something significant shifted and their autobiographies took a distinctive direction.
Just like in great teaching, stories can be used in coaching to 'show' more than 'tell'.
We are likely to have much more impact on a client via a vivid, appropriate and identifiable story than directing them to do five things differently in their lives.
Why? Because stories touch our imaginations and emotions – the real agents for change in our psyches. All stories involve some sort of transformation. And our beliefs about the world come from media stories, stories others have told us, and our own histories.
Your Core Story
But what about you as a coach? Do you have a clear and vivid idea of your own most powerful story?
I'd like to suggest that for all of us who coach, there is one core story we have which can act as professional ballast or an anchor. To be lodged in a memory vault of our own for when the going gets tough for us personally – worrying about not having enough clients or money, maybe.
And this core story will be our own personal experience of being able to influence other people for the better, and produce change.
All stories share some of these elements:
Something happens
Someone wants to do something
There is a complication
Struggle and battle arises
There is a crisis
And a reversal in fortune
Then a resolution
My core story involves an all-girl singing group I launched, called Les Bon-Bons. I had this idea for a kind of (very!) alternative Spice Girls, where we performed saucy songs from the 1950s. In my dreams, I knew of two women I admired greatly who I wanted to join – and they agreed.
It was a real struggle to get musicians, rehearsal time and commitment and gigs. But six months in, when we were playing to packed pubs in South London, I got a huge and exhilarating sense of 'wow, this happened'.
So what is your 'wow, this happened' story? What did you change that makes you know you can help others? I'd love to hear your stories in the comments section at the end of this post.
For many of us drawn to coach, it may involve helping family members, friends or people at work.
If you feel you'd like more direction currently, then writing down or sketching this story or retelling it vividly in your mind's eye can be deeply restorative.
And yes, it's a vitally useful tool for work with clients, too.
About the Author/Further Resources
Philippa Davies is a psychologist whose clients include UK Olympics Performance Directors and Head Coaches. She blogs at mrsmotivator.com
You can find Philippa on Twitter at @mrsmoti
Background on Image above title via: FreeDigitalPhotos.net