---
The Survivor's Coach, Marie Yates shares a personal experience and a question in this week's guest post: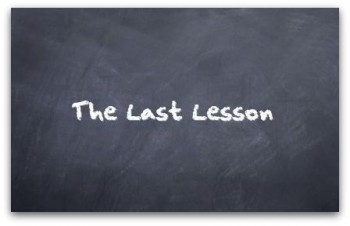 The Last Lesson

by Marie Yates

"What do you want to be when you grow up?" This was a question my Grandma asked me only a couple of weeks ago! I won't reveal my age but I can assure you I would be considered 'grown up' by anybody's standards. The question was asked by a woman who has always been an incredible role model to me and whilst her memory was fading, she never ceased to amaze me with her strength and courage.
Initially, the question made me laugh. I am grown up. However, it was only then that the enormity of the question struck me. I looked at my Grandma and told her what I wanted to be when I grow up. 'I want to be a writer'. She looked at me, smiled and said 'that's nice, what are you writing?'
Ok, so the list of reasons why I wasn't actually writing anything at the moment didn't work on my Grandma. I love what I am doing at the moment. I am blessed to be able to work with people I connect with and I wouldn't change anything about my life. I would simply add this element to it. That burning desire to write has never gone away, it has just been muted while I have developed other elements of my life. Grandma simply said, 'make the most of being young as the time goes so quickly'.
Grandma passed away last week and that was her final piece of advice for me.
I would love for you to ask yourself the question 'what would I like to be when I grown up?' Smile as you ask yourself and think about the first burst of inspiration that comes to you.
What are you doing about it? How are you making this a reality?
Don't put it off thinking that there will be time. Make the time now and make this happen.
As for when you will be 'grown up'… I will leave that for you to consider!
About the author
Marie Yates, 'The Survivor's Coach', is the founder of Indigo Turtle.
Taking the experience of rape and sexual violence and using it to create a catalyst for positive change is something that seemed impossible. Marie has shown that it is not only possible; it is changing the way that survivors see themselves and the way that survivors are seen by others.
Through a variety of ways, Marie looks at what it means to be a 'survivor' and then takes it to the next level. Looking to the future and exploring what can be achieved gives a renewed enthusiasm for achieving success as defined by YOU!
Follow Marie on Twitter here.
---
---
---
---
---
---
---
Next Page »