In today's guest post Amanda Clegg shares some of her experience and observations about some of her recent coaching work.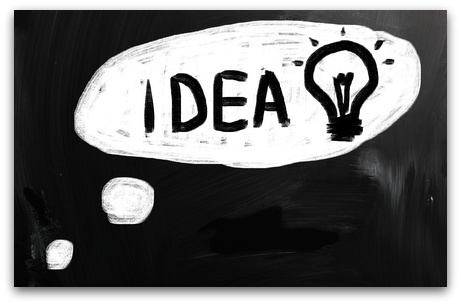 Co-Coaching
by Amanda Clegg
A teacher comes into a staffroom and says "I can't…"
It doesn't really matter what the end of the sentence is because you have probably already heard it many times before and it is not a joke!
I have found during thirty years in teaching and senior management that as a profession we are rife with self limiting beliefs. We are ready to talk ourselves down and often think we are not as good as the teacher in the neighbouring classroom etc.
I was coaching a teacher prior to the summer and she confided that she spent most of her waking hours every summer worrying what the GCSE results day would bring. This was a good teacher who was well organised and had no evidence to suggest she needed to worry at all.
The results were fine and whenever we see each other in the corridor this term, our mantra is "no evidence".
A Co-Coaching Programme
I was asked to set up a co-coaching programme in a local secondary school. The Head teacher was clear that every teacher should be coached. The challenge was to support all teachers to deliver good and outstanding lessons consistently and that meant working with individuals to address their own particular strengths and challenges. This was to be an important part of the school commitment to continuing professional development.
In many schools up and down the country, teachers who wished to develop their practice in an area (or if their line manager felt they needed to) are given brochures of relevant courses. Research carried out in 2003 observed that:
'there is a much better chance of learning from someone in the next classroom than from someone 20 miles away' (Reynolds D. (2003) News & Opinions, TES 20 June)
This agreed with research in 1995, by Joyce and Showers, who reported that:
'Training courses and workshops fail to make a long-term impact on classroom practice' (Joyce, B. and Showers, B. (1995) Student Achievement through Staff Development. White Plains, New York places: Longman)
Regular coaching by staff working side by side in the same school with the same students should make an impact and it does.
The school in question has 60 teaching staff including the senior leadership team. Staff were asked to apply for the role of teacher coach by letter. The post would have two periods of extra non-contact time and a small monetary increase. Ten teachers applied for the role and all were interviewed and appointed. Coaching would be 1-1. The school had dabbled with coaching triads and buddies in recent history but these had not had the desired impact and quickly faded.
Teachers are 'fast listeners'
I ran two twilight coaching training sessions for the newly appointed teacher coaches (6 hours in total) where we looked at what coaching was and was not. We practiced active listening, the GROW model technique, selected appropriate questions and developed a Coaching Protocol for staff to sign. The coaches also invited each other into their class for an observation and then conducted a coaching session with each other.
The Senior Team also wanted to be coaches and so I trained them using the same materials.
The most difficult aspect for all teacher coaches was to avoid suggesting what to do, giving ideas and solving the problem for the coachee. Teachers are "fast listeners"- usually solving the issue that is been presented before the person has stopped talking! This desire to solve the problem can stop us hearing what the issue exactly is.
We also need to stop letting others delegate their thinking to us. How often does someone bring you a problem to solve which is well within their capability? What do you do?
Are you hooked in and solve the problem?
Or do you ask what they could do to solve it?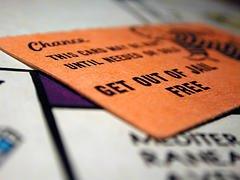 If you are hooked in, then this person will keep coming back with issues for you to solve. If your advice is ever wrong they have their get out of jail free card – Mr X told me to do it.
.
Coaching can help if you let it
Last week, I hosted a fellow teacher from a different subject on a learning walk. Our focus was the quality of marking and feedback. Steve had commented in a 1-1 coaching session, that he felt his marking was not up to scratch. He carried around a feeling of guilt that he did not spend sufficient time on this area of his job, but also struggled to see how he could do more of this without it impacting on his lesson planning time. When I asked him what he could do about this feeling, he proposed a visit to see what happened out in the wider school.
Afterwards in our coaching session, he talked to me about what he had seen and how it made him feel. He realised that his marking was great and the students were getting good value from his efforts. The smile on his face was tangible; our fifteen minute foray across the quad to a different department had worked. He was able to let this feeling of being inadequate go and also began to think of the next steps for his own department in terms of marking and feedback.
The key principle I had to negotiate with the Head teacher was that coaching was confidential
In order to achieve the open, honest conversation about teaching and learning that was required, the process must be non judgemental. It was vital that the Senior Team or Head of Department did not require coaches to tell them how a particular teacher was doing with their coaching. Coaching must provide a supportive, open door approach in every classroom where teachers are encouraged to be innovative and take some risks which they would not necessarily do in a judged lesson.
It was agreed that the coachee is responsible for all the records of the meetings. The Coach can only be asked by the Senior Team to confirm how many coaching meetings have been held.
The Assistant Head teacher allocated the staff to the teacher coaches. I became the coach to the Senior Leadership team and also to the teacher coaches. Next academic year, I fully expect that I will not be required and the teacher coaches will take on my role. This is my goal – not to be needed!
Feedback so far – after term one
The co-coaching program has been in place for a term now and I have completed a brief feedback with the teacher coaches. It is pleasing to see the resulting comments summarised below:
Having support has helped. Taking to others about their teaching has also made me reflect greatly upon my own.
People are changing their attitudes and practise. They are thinking things through before reacting.
Time to reflect for coachees and giving the opportunity to focus on an area for improvement has been a luxury.
Staff are valuing the input and attention; goal practice is being shared
Staff have more confidence within their own teaching ability. Coachees now realise that lots of teachers have similar problems but just have different ways of dealing with things; this has led to independent success and cross sharing of ideas.
Identifying and raising people's self limiting beliefs and challenging these has been beneficial.
It is great to have the chance to talk confidentially about things and not worry about it being repeated.
The chance to discuss aspects of pedagogy is great
Having someone who is non judgemental to talk to is great
More useful than anything else we have tried. I wish we had done this years' ago.
Very beneficial – has opened a lot of conversations up and got people into different areas of the school and lessons.
My coachees are thinking about how to be outstanding consistently and willing to try new things
Wider relationships which are cross curricular. There is an openness to learn and teachers are talking about T&L
The coaching process is leading to meaningful, practical sharing of good practice and identification of areas for development which I believe is leading to a genuinely reflective process and better T&L. I feel we are both learning and improving our practice as a result.
I am hugely happy with the process and feel I am benefiting enormously
What types of goals are being set?
I asked coaches to summarise the types of areas their coachees were working on. It was great to see both the diversity but also the congruence of the goals.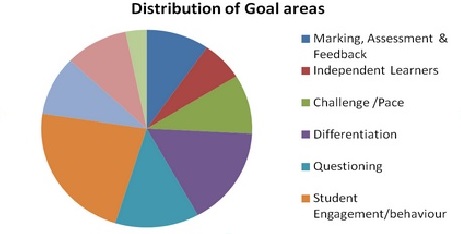 As with any new intervention there are teething issues, but these seem very minor in comparison to the positive comments and benefits above. I am looking forward to term 2 and also setting up the co-coaching programme in another school.
About Amanda Clegg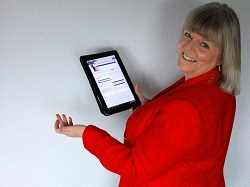 Amanda Clegg has been a science teacher in state secondary schools for almost thirty years. She was a member of a Senior Leadership team for 15 years before being asked to lead a private sixth form college through their initial ISI inspection. The college achieved an outstanding judgement. Amanda now works as an Educational and Coaching Consultant in Oxfordshire and Swindon. She is currently acting as temporary Head of Science two days a week in a local secondary school, as well as being an Associate trainer for Creative Education, co-author of a GCSE revision guide and an Associate Lecturer for UWE on the PGCE programme.
https://www.facebook.com/AKCConsultancy
http://uk.linkedin.com/in/akcconsultancy
email: cft-aclegg
supanet
com (cft-aclegg
supanet
com)
Twitter: @Teachercoach1