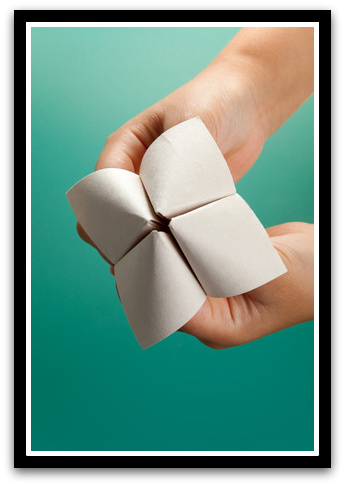 Coaching Confidence Chatterbox with
The Coaching Confidence Chatterbox is an interview feature with coaches where the questions are generated based on the origami fortune teller/chatterbox game.
Name: Emma Fowler
Name of your Coaching Business: Free your career
Website: www.FreeYourCareer.com
.
(The answers to the above questions are then used to generate a choice of numbers)
.
Select one of the following numbers 7, 2, 3 or 6: 7
"What do you look for when choosing a coach for yourself":
A combination of coaching and training; a chemistry between me and the coach.
.
Select one of the following numbers 8, 1, 4 or 5: 1
"Tell us a bit about your coaching":
I offer three different types of coaching:
career coaching;
executive coaching
a blended solution which offers life coaching.
There is no hard-and-fast rule to stick with one when I coach people, we deviate according to the needs of the client. Career coaching is my passion.
.
Select one of the following numbers 8, 4 or 5: 5
"What is your favourite way that a client has found out about your work?":
I coached the husband of one of my clients when he changed from his long-term permanent career to contracting, because she was enjoying my service and liked that I might help her whole family rather than just her.
.
What question would you like to add to the Chatterbox for another coach to answer?:
What's the most difficult situation you have faced as a coach and what advice would you give other coaches if they face the same?
.
How would you answer that question?:
It's sometimes hard with existing relationships in your network to take things from a supportive conversation to a monetised consulting service, especially when you're starting out.
In order to understand why someone should employ you as a coach, you need to value the service you are giving (and your time) and appreciate the significant positive impact your work will have on the person, in order to explain to a potential client why a relationship should transition to being a paid service (of course using discretion with friends!)
Thanks for playing Emma, if you want to find out more about her work visit www.FreeYourCareer.com.
If you are a coach and want to play with the Coaching Confidence Chatterbox send an email via this page.
---