In today's guest post leadership trainer and coach Brian Lumsdon looks at: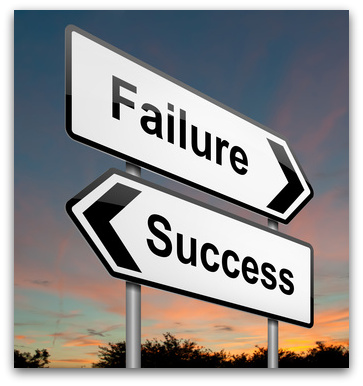 The Allure of Failure
Now this might just be me, but don't you think there's a feel good factor around Britain again this summer? Perhaps it's the prolonged spell of wonderful weather and maybe Andy Murray's victory at Wimbledon has influenced the nation's mood. Whatever the trigger, I sense an air of positivity amongst friends, family and the people I work with across the country.
So with this in mind you might be curious as to why I've chosen to talk about the topic of 'failure' today! It's a subject that's crept in and out of my thinking since the start of this summer, encouraged by some notable sporting successes and the role their 'failures' played in the success they enjoyed. So stay worry-free, I'd simply like to share my take on how we might embrace failure and help our clients do the same.
A seed was sown during a lecture I attended by Olympic swimmer Chris Cook, a commonwealth gold medallist. To the backdrop of a screen full of events and dates, Chris shared numerous 'failures' he had experienced over a five year period. The Olympics he missed because selectors thought he wasn't good enough, the championships where he didn't make the qualifying time. He explained to the audience with so much passion that he was as proud of these moments as he was about actually winning commonwealth gold medal.
To be more specific, he was as proud of himself when thinking about these moments of failure in the context of his focus.
I know we are often conditioned to a culture of deleting the negatives and accentuating the positives to achieve success. I do believe this can be really useful. But there seems to be something liberating, even energising, about acknowledging a failure and just continuing in the direction of our focus. I've used the word 'focus' here. You may prefer to describe this as your purpose, goal or best intention.
"Our greatest glory is not in ever falling, but in rising every time we fall" Confucius.
My summer failure-theme was cultivated by Justin Rose, who in June became the first English golfer to win the US Open for 43 years. In one of his post-tournament interviews he recounted the fact that when he first became a professional golfer Justin missed the cut TWENTYONE times in a row. (In these four day tournaments, 'missing the cut' means a player failed to reach a qualifying standard after the first two days and is therefore removed from the competition).
"If I missed the cut by six shots one week and by four the next, I would spin it in a positive light. I didn't drill myself further into the ground." said Rose. He also went on to say that days like that help remind him that winning is even more special.
So for some people, like Chris, just to understand our reaction to failure is in our own hands is enough. The fact we know we are in choice allows a more resourceful thought or reaction to appear without having to work at it. Others, like Justin, greatly benefit from spending a few moments cultivating a useful meaning or philosophy.
Throughout my coaching career I've worked with clients who have become stuck or even crippled by their own thinking of a failed event. This has applied to job interviews, delivering presentations, working with sales targets, relationships, parenting and countless other examples I could mention.
I've noticed that two patterns of thought typically play out for clients, often unconsciously, after an event that didn't go to plan. They often get stuck in either the 'what if…'.or 'blame' patterns of thinking.
What if….it happens again… I'm found out…..it's worse next time….all my fault….I'm just useless
Blame …it's my partner / parent / colleague fault … I blame the lack of resources / luck /culture
Either way, these thought patterns create a negative state of mind and affect our entire physiology. And of course from this unresourceful state it is little wonder we either don't perform next time or we do everything in our power to avoid the same situation next time.
Benjamin Zander, Conductor of the Boston Philharmonic Orchestra and Leadership guru, insists his students use a novel approach whenever they make a mistake. Their natural tendency would be to cringe, perhaps slouch into their seat and look to the floor. Instead he has them jump up, fling their head & shoulders back and shout 'HOW FASCINATING'. Now which of these two responses do you think helps the student smile and quickly move on?
You see, if there is no blame or shame attached to a failure, no holding on to negative thought of an experience, we are free to head towards better results.
"It's fine to celebrate success but it is more important to heed the lessons of failure" Bill Gates
My failure-themed summer concludes with Andy Murray's glorious success at Wimbledon. I'd imagine the majority of people reading this will know he was the first Briton to win the men's title for 76 years.
In a radio interview shortly after his Wimbledon success his biographer told how the way Andy had kept hold of his past failures was something he had discussed in depth with his coach, Ivan Lendl. 'Take what you want to learn and move on' became a bit of a mantra for them. Andy also caused a bit of a stir in a pre-tournament interview this year when he admitted he may never win the Wimbledon championship. While this was hard to hear for many at the time, his biographer said this admission seemed to be a liberating and pivotal moment for the player.
"The greatest mistake you can make in life is to be continually afraid you will make one"

Elbert Hubbard
So here is an approach I've found to work really well for myself and clients recently, helping us embrace failure. You might want to adapt them to your own style or try them out for yourself as they are.
Re-examine a lingering 'failure' from the past and consider :
What was your key focus (or best intention) at the time?
What does that focus say about you?
What can you learn from that moment before you move on?
Think ahead to a future activity or challenge. Spend a moment in healthy anticipation of failure :
What does it say about you that you want to go for this thing?
How many times are you willing to have a go? One, TwentyOne or as long as it takes?
How will you ensure you learn from, or even celebrate, this brilliant failure?
About the Author
Brian Lumsdon is a leadership trainer and coach with TwentyOne Leadership and has created lasting change in diverse organisations over the last 15 years.
Brian specialises in helping business leaders create a high-performance coaching culture. He develops an organisations capability to coach their people brilliantly well.
You can contact Brian via e-mail ( brian
twentyoneleadership
com) or connect via Twitter (@brianlumsdon) or LinkedIn (uk.linkedin.com/pub/brian-lumsdon/38/824/735/)