Transformative Coach Katri Manninen shares her thoughts about coaching and clients insights in today's guest post: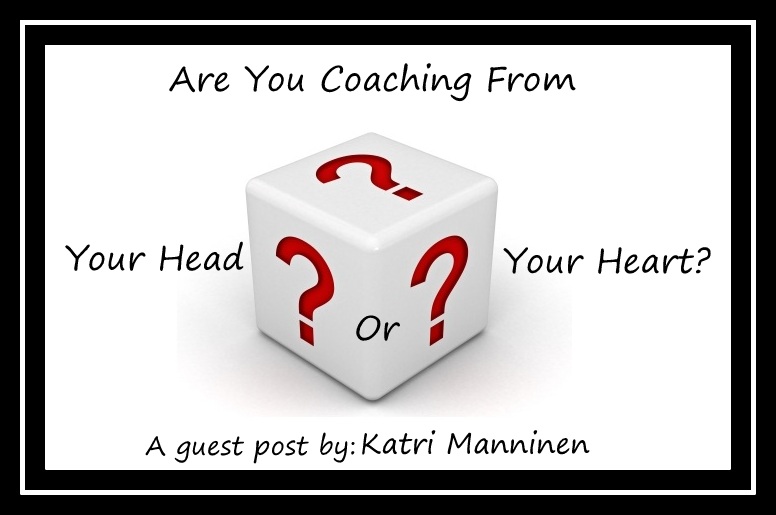 Are you coaching from your head or from your heart?
Have you ever noticed, how sometimes a random statement you make without thinking seems to cause your client to have a major insight? Or even worse: your client shrieks joyfully "Oh, that's it! I get it! Thank you!" …and you have no idea what you just said?
How many times you have thought you fully understand what is going on with your client, but when you explain it to them, they stare at you as if you just said sun doesn't exist? Or even worse, they mutter something like "yeah, but…" and then go on a rant that proves your point wrong? Suddenly the mood in the room becomes tense and oppositional and you feel that you lost the connection to your client.
I have experienced the both scenarios, and for the first year I was coaching it puzzled me. How could I help my clients to have more insights, when I didn't know how I had helped to have their initial insights? How could I stop myself from ruining the good feeling between me and my client when I felt the urge to help them?
Then I joined Michael Neill's Supercoach Academy [www.supercoachacademy.com] and learned the three principles behind the human experience. I learned when to speak and when to shut up by noticing where my thoughts and words seemed to come from. Were they coming from my heart: my inner wisdom and the intelligent energy behind life — or from my head: my personal intelligence, opinions, judgements and prejudices?
When I'm speaking from my heart, I feel grounded and open. My body feels relaxed and light. My mind is calm and clear. The words and thoughts seem to be coming deep inside me, from my gut or my heart. Or more precisely: they feel like they're coming through me, not from me.
When I'm in the heart-space, I'm often surprised by what I say — and so are my clients. I just seem to know instinctively what to ask — and when to be quiet — even when it doesn't make sense to me.
When I'm speaking from my head, I'm thinking a lot. Sometimes so much I don't really hear the client anymore. All my thoughts seem to be coming from my head. I may feel energetic and enthusiastic, but if I listen closely to my body, I notice my body is tense and closed.
When I'm in the head-space, my words are calculated and statements manipulative. I feel like a puppeteer trying to pull the right strings to make my client to see what's best for them. I feel smart and important… That is, until my "wisdom" fails to hit its target and my eagerness to help the client ruins the mood in the room.
When I'm speaking from my heart, I don't care if my clients get what I'm saying or not. I know that they have access to the same infinite wisdom as I do, and that they will eventually find the answers they're looking for. My job is just to be present and point them to the right direction. That's all.
When I'm speaking from my head, outcome is everything. I want my clients to understand me. I have a need to add value and make a difference. If they resist my suggestions, I feel irritated or disappointed. I start to think that either I'm a failure or they're "un-coachable".
Today I do most of my coaching from my heart. Yes, sometimes I fall into the trap of my own thinking and have an irresistible urge to say something smart or give advice. The minute I notice what I've done, I laugh at myself — sometimes out loud.
This new approach has made coaching feel light and easy while my clients are having amazing breakthroughs. This understanding has also changed my marriage and other relationship. It's mind-blowing how seldom people really need my opinions and advice — and how often just being present and loving is more than enough.
About the Author/Further Resources
Katri Manninen is a Transformative Coach (™) on a mission. Her goal is to create Fearless World 2022 by teaching three principles and helping people to tap into their inner wisdom. She has committed to being The Most Powerful Coach in the World by being fully present and open with all of her clients — regardless if they're desperate housewives she's coaching pro bono or successful entrepreneurs with multi-million businesses.
If you understand Finnish, check out her website: www.kutri.net . If you'd like to experience the space where miracles can happen, email her: kutri
kutri
net
Background on Image above title via: FreeDigitalPhotos.net