In this week's guest post Ryan Toms shares his thoughts about working with, and speaking to, groups in a business setting.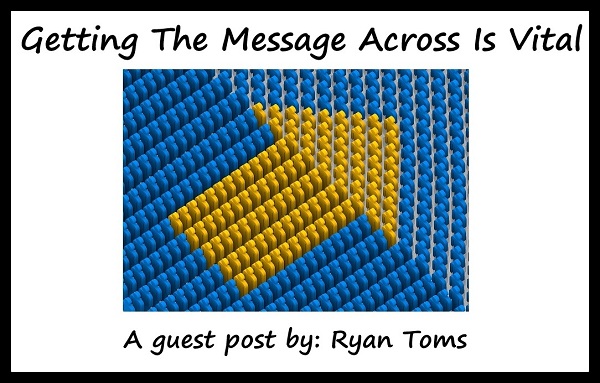 Getting The Message Across Is Vital
By Ryan Toms
Whether you're a full-time coach or someone who dabbles in motivational speaking, you'll know how the credibility of your message can set the tone for the whole coaching session. If you're trying to get across a degree of positivity but your demeanour suggests otherwise, the whole session will have been little more than a waste of time and effort.
The Internet, various coaching manuals and the occasional video tutorial will tell you there are different answers to the debate about the most important aspect of coaching, but I feel there is one answer to this: you simply MUST get your message across at every session you hold. If attendees come away without knowing what you were trying to say, a vital opportunity would have been missed. Therefore, always have in mind the goal of the session and don't over-complicate a presentation with too many objectives or take-homes for the audience: each should build on the previous point.
Coaching sessions are often used to improve morale in the workplace, which can be something of a knife edge for the speaker: the wrong approach could end up demotivating employees or be seen as condescending; exactly the opposite result to what is intended! Therefore, you should always make sure you do a little research beforehand. While one group of workers might benefit from a gung-ho approach, others may prefer to be encouraged in a more subtle manner.
Different strokes for different folks
For example, it's often the case that a sales team responds more positively to practical tips that have case studies and proven results to back them up, whilst those who work in finance may prefer to hear a speaker who can show a respected track record in a related field of expertise. It's never ideal to think in terms of generalisations, of course, but a little homework will go a long way to ensure that you are not talking down to a particular audience.
If a company decides to call in an expert speaker in a bid to boost morale, it's likely that team spirit won't be particularly high at that moment in time. For the coach, it's vital to remember the importance of maintaining a confident air. The delegates will look to you to take them on to a new level of ability and potential, and your message will struggle to be heard if it appears that you don't believe in it in the first place.
Some commercial organisations spend a small fortune on team-building activities for their staff members, in a bid to engender some spirit in the workplace, but in many cases this isn't really necessary. A well-prepared presentation by a recognised expert can achieve far more, purely because it's more of a hands-on approach. A competent coach can tailor the message to each individual delegate, as opposed to the more scatter-gun approach of an organised physical event.
Variety is the spice of life
Any group of employees that attends a coaching session, whether there are four of them or forty, has to be seen by the speaker as a disparate band of individuals. Assuming them to be an autonomous conglomerate rather than separate entities is a dangerous tack, and will inevitably lessen the chances of success. The very best coaches maintain the balancing act of talking to a group while at the same time speaking to individuals.
Of all the tools that can be used to help with a team discussion, PowerPoint remains the number one choice for most speakers. However, there are many more that can be utilised and incorporating alternative methods is always a good idea. If the message is delivered with a bit of a twist, it's more likely to be remembered.
One aspect of coaching sessions that is often overlooked is the provision of written materials for delegates to take away with them afterwards, or an online sharing function to receive copies of the presentation or supporting slides and documents. It's somewhat surprising to know some speakers feel there's no need to supplement the message with text, but this can be a huge mistake. If you're speaking to a group in a workplace you should always assume the audience are attending other similar events that month – when you do that, you can then appreciate there is very little chance of any individuals remembering all the things you've said.
Keep the message clear and simple
Needless to say, you don't have to supply an expensive and potentially unnecessary booklet to accompany your coaching session. It's often the case that a few sheets of text and diagrams is enough to suffice. Remember, keep written documents simple and concise, and never underestimate the power of bullet points! Many offices these days use remote workers or virtual set-ups, so having materials available online, or a chat function to answer questions and follow-ups marks out a great coach from the average ones.
Motivating a group of individuals can be a difficult task, but for the coaching professional it represents an intriguing challenge. Research shows that people in all sectors of industry respond to feel-good success stories, so a good strategy would be to include a tale or two of companies that have managed to turn things around after improvements to morale levels in the workplace.
Team spirit can be an inconsistent factor, however, and it's hugely important to bear in mind that it can change very suddenly and with dramatic effect. Even at the end of the most successful morale-boosting coaching session, a series of negative events in the workplace can undermine all the good work that has been done. The wisest business owners and directors will know that staff morale should always be seen as a work in progress.
Finally, a vital factor in the success of any coaching session, but especially one that's intended to boost morale, is the demeanour of the individual coach. If you provide a dry, unemotional experience for the delegates they will take nothing from it. While I'm not suggesting you burst into the room like Ronald McDonald when he's overdone the energy drinks, you should at least be enthusiastic and energetic. And above all, you have to project a positive image at all times.
About the Author/Further Resources
Ryan Toms is based in the UK and writes extensively on business coaching and motivation for a virtual office start-up consultancy.
Background on Image above title via: © Palto | Stock Free Images & Dreamstime Stock Photos