As Coach Gina Visram is based in the host borough for this years Games she uses it as a topical theme to share her experience, expertise and thoughts in today's guest post.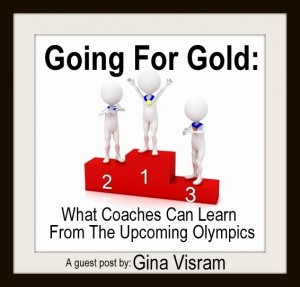 Going for Gold:
What coaches can learn from the upcoming Olympics
By Gina Visram
This year's Olympic Games commence in a week, on 27 July 2012 and the sense of anticipation is at its peak. Globally, competitors have done their training and are gearing up to get settled in London for at least a fortnight and spectators are ready to cheer their teams from the comfort of their homes all over the world. For those of us here in the UK and London specifically, we are at the end of a 7 year countdown to the games and while excitement is in the air, there is a definite sense of the 7-year itch… regarding how we view the Games locally.
With recent headlines including "Border staff 'let in terror suspects' ahead of Olympics"; "Olympic Travel Chaos looms…" and "The £50m security blunder! G4S admit to Olympic failing over staffing shortfall" – it is clear that the honeymoon period regarding the Olympics is over and it's now open season to take any opportunity to criticise the Games in any capacity. The popular trend is to highlight what is bad or ugly and shout it from the rooftops to all who will listen.
I don't know about you but I've decided not to be part of that audience. As someone who works in Hackney, one of the Olympic host boroughs, I know my daily routine (and that of many other Londoners) is about to get considerably more challenging on a daily basis.
Nonetheless, I have decided to step away from the flock when it comes to the trend of complaining about the Olympics – and have instead focused on the many positives, including how the global event can inspire us as coaches.
Here are 3 ways we can apply Olympic-related teachings to make us medal winning coaches:
1. Know and live by your values:
The values of the Olympic and Paralympic Games include Excellence, Friendship, Determination, Equality, Inspiration, Courage and Respect. In my coaching training, one of the most insightful areas was the section about the importance of values and beliefs and since, I have seen numerous clients make breakthroughs when we take the time to explore this aspect of their lives. In our daily busy-ness we do not necessarily take the time to assess why we have set the goals we have and what is important to us on a larger scale. Focusing on our values however aids in giving us the strength and focus needed to achieve what we need to, and it is the same for our clients.
Olympic lesson number 1? Know and live by your values… it will make you a better coach and happier individual as you're being true to yourself
2. If you want it, you have to work for it:
How many Olympic athletes do you know that wake up at 10am? Do you know any that wouldn't jump at the opportunity to work with the best trainers in their event? Would an Olympian decide that they "can't" do what they set out to?
This committed, determined attitude is one that we'd do well to adopt as coaches. For those of us at the stage where we are building our businesses around a full time position, as well as for those that have taken fully the leap – it's important to remember that to get to our desired stage in business development, it may be necessary to face early starts and late nights. In addition, experiencing some of our coaching heroes live (at talks or workshops) is the closest we may get to working with a dream trainer… and potentially as beneficial.
Olympic lesson number 2? Your success as a coach will not come from passively waiting for opportunities to come to you. If you really want career success, consistently hard work and training from experts in the field will have a positive impact on your aims
3. Seek opportunities beyond the obvious:
In addition to seeking competitive opportunities such as the Olympics, athletes look at how they can maximise their potential even beyond this main goal. Jessica Ennis, World and European heptathlon gold medallist has advertised Powerade, Adidas, Olay and more; Cyclist Victoria Pendleton is a face of Hovis; and Sir Chris Hoy is an ambassador for Proctor & Gamble (P&G). They are serious competitors who give their all in their sports but have also recognised that their fame is lucrative to their lifestyles, and understandably explore these options.
Olympic lesson number 3? Be open. Seek less obvious routes to your coaching success. Take speaking opportunities and consider anything which may not have initially come to mind when you set that first coaching related goal. Sometimes by seeking opportunities beyond the obvious, you can end up in a better place than you had even intended.
The success of London's Olympic and Paralympic Games remains to be seen, but from my little corner of London, I wish the organisers and athletes every success….and for us coaches, I hope I have given you food for thought in relation to your coaching development… and just a few more reasons to stand away from the naysayers and join in the celebrations.
About the Author/Further Resources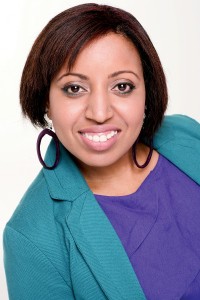 Gina Visram is a career development coach, working with people to maximise or regain their focus and drive to achieve key goals. In recognition of how important it is to focus and flourish in times of major transition in life, Gina is especially passionate about working with students; young professionals; budding business owners; newlyweds and more, all determined to unlock their own potential.
She is also a newlywed who is proud to have survived and learned from the unique experience of being a 'royal wedding bride' (married on the same date as Prince William & Kate Middleton… we chose the date first!) and specialises in coaching newlyweds through a state of the post-wedding blues to post-wedding productivity.
Gina has been published in newspaper The Voice and website Wedding TV, is in the process of writing her first book, "Happily Ever After for Grown Ups" and is excited that through preview chapters, available via www.post-wedding.com, clients have been known to gain clarity and confidence, achieving goals such as significant pay increases after applying the programme.
To find out more, visit:
Website: www.limitlesscoaching.com.
Blog: www.limitlesscoaching.blospot.com
Post wedding related blog: www.royalweddingcountdown.wordpress.com
… and You can also follow her on Twitter @limitlesscoach and @bridemotivation.
Background on Image above title via: FreeDigitalPhotos.net