Coach Beth Burgess shares her experience, expertise and thoughts in today's guest post as she asks:
My Coaching Clients Aren't Broken – Are Yours?
By Beth Burgess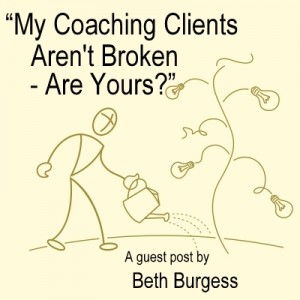 One of the fundamental presuppositions of NLP and Life Coaching is that our clients are not broken. In coaching circles, I sometimes hear people talk about 'uncoachable' clients. And yet we might be writing off clients as 'uncoachable', when actually they just have more roadblocks than most.
Many of my clients are people who have to come from a long way behind in life. I coach alcoholics and drug addicts trying to recover, binge eaters, depressives and people who really feel lost in life.
To the eyes of the world, these people are viewed as broken; but not to me. My clients often tell me that they could talk to me forever, they don't feel judged, they feel more positive, they feel supported and empowered – and they often go on to make brilliant progress in recovering from their setbacks.
This is because I don't treat them as broken – I treat them as people who are suffering, who are trapped. Not people who are inherently flawed, but people who only need to discover the way to escape.
While some coaches may not feel qualified or comfortable coaching people with addiction disorders, eating disorders etc, this doesn't mean these people are uncoachable. They just need a coach who understands their issues, who doesn't see them as broken. They need a coach who believes in them, because how can you effectively coach someone if you think they can't succeed?
I do know they can succeed, and I cheer-lead them all the way through their journeys. So how do I know they aren't really broken? Because I am one of those people who came from a long way behind – I was an alcoholic, a self-harmer, a bulimic, an agoraphobic, a depressive.
In fact, NLP was the starting point to me finding the solutions to my own problems. The day I was cured of my agoraphobia by NLP was the day that the rest of my life started to change. Since then, I have made great strides in changing my life and fulfilling my potential. How could I achieve that if I was broken all along? And how could I achieve that if someone else hadn't believed they could help me?
I am just one tiny example of the people that can, and do, come from behind to succeed – many addicts I have worked with have gone on to do some amazing things and create brilliant, inspirational lives.
I coach my 'uncoachable' clients in the same way I would do any client:
I am fully present with them
I listen deeply
I understand their model of the world
I empower them to make shifts
If addicts are not your ideal clients, and you don't have time to invest in understanding their issues, then fair enough. Refer them on to someone who is comfortable in that arena, like a specialist Recovery Coach. But don't call them broken. They're not. They are little pieces of inspiration, ready to emerge. Sometimes it happens quickly, sometimes slowly – but with a coach who believes in them, they all have the chance to succeed.
And whoever your clients are, from mothers to executives, from other coaches to corporate leaders, truly believe in everyone you work with, for only then will you empower them to achieve all that they truly can.
About the Author/Further Resources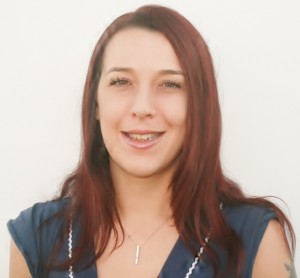 Beth Burgess is a fully-trained Life Coach and a qualified NLP Practitioner. Beth's background is in Social Care, supporting recovering addicts to attain their education and employment goals for a major charity. After seeing so many addicts held back by their own beliefs about themselves, she started her own Recovery Coaching business, Sort My Life Solutions (Smyls). http://www.smyls.co.uk
Specialising in Addiction Recovery, Beth has also been sought out to help people overcoming serious illnesses, mental health problems, redundancy, divorce, bereavement and eating disorders, among other issues.
Beth is the author of two forthcoming books on Addiction Recovery and has also published an e-book, What is Self Esteem? How to Build your Self-Esteem and Feel Happy Now.
Beth's areas of expertise include Dialectical Behaviour Therapy, Recovery Coaching, Stress Management and Overcoming Obstacles.
Beth lives in North London and coaches clients from all over the world. Her other projects include writing articles, running workshops and speaking.
For more about Beth, visit http://www.bethburgess.co.uk
Background on Image below title via: FreeDigitalPhotos.net